Norway Mountain Guides. Established in 2015
From Fjord to Mountain. Norway Mountain Guides (NMG) is a local guide company that guides tourists and residents in small groups on the mountains of western Norway both summer and winter. The tours are adapted to the level of participant.
We create unique experiences in the untouched Norwegian nature within a safe and relaxed atmosphere. All our tours are in scenic surroundings. The beautiful mountains around Bergen are unique with the sea view.
We do not try to be extreme in any way, our focus are on a natural and sustainable outdoor life according to Norwegian traditions.
We offer tours all year, and in the winter we have tours with snowshoes and skies in untouched nature. All in a short driving distance from Bergen. Have you not tried skiing or snowshoeing before; we will show you!
All our guides are local with the ability to tell you more about the Norwegian way of life, history, and culture. In addition to long experience with the outdoor life in the mountains, our guides have backgrounds from the military, police, first aid instruction, emergency response training, ski, sail, and climbing instruction, and sea rescue. Norway Mountain Guides collaborate with highly experienced doctors at Haukeland University Hospital.
Our tours are for guests who want to experience the outdoors on their visit to Norway without having to be extreme in any way. Therefore are tours are in terrain that suits most people with some hiking experience and a normal level of fitness.
On request we also tailor demanding trips with the necessary expertise from IFMGA certified guides.
Our Guides
FRANK BARMEN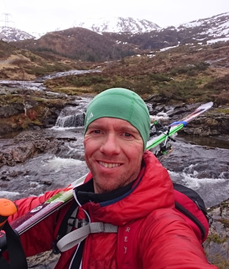 Profession: Professional mountain guide, Founder of Norway Mountain Guides, Police Officer
Frank is an experienced guide and founder of Norway Mountain Guides. Energetic and very passionate about hiking, skiing, and all outdoor activities, he guides on all our tours, summer and winter. Frank loves to connect with nature and does kayaking, climbing, windsurfing, skiing, snowshoeing, and cycling regularly, and takes every opportunity to connect with nature. Frank is an experienced skiing and climbing instructor, First Aid Instructor, Advisor Crisis and Emergency Management, and holds a Travel Guide Education from Austria. Frank loves to share his favourite hikes with others and has a great track record of 5 star ratings from our guests. Frank is born and raised in Bergen, Norway. He works part time as a police officer as well as guiding and running the business of Norway Mountain Guide
RIKARD BOEE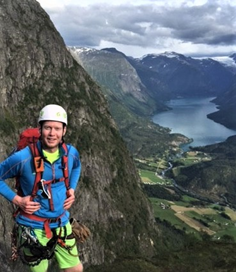 Profession: Norwegian Nature Guide (NNGA)
Rikard grew up between the mountains, fjords, and glaciers in Nordfjord on the West coast of Norway. Qualified as a Norwegian Nature Guide (NNGA) he has been working as a guide for 6 years. He is also soon to complete a Bachelor degree within tourism and outdoor life. Rikard is a versatile guide with certifications for hiking, skitouring, glacier walking, kayaking, avalanche safety, and first aid. Rikards passion is to let people from all over the world get close to our nature and real memorable hikes and experiences. As the rest of our team he is always spending time outdoors with a big smile on his face. He now resides in the town of Bergen where he was born.
BIRGITTE MUNCH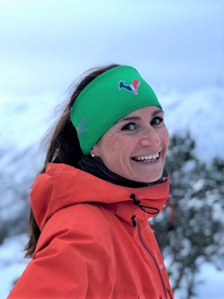 Profession: Personal Trainer & Coach
Birgitte grew up on the mountain hill leading up to the famous Mt Fløyen and knows most paths on the local mountains surrounding Bergen. Energetic and outgoing she is passionate about using the local playground we have around us to keep fit. She now works as a Certified Personal Trainer and Coach, having spent 15 years working in an office as an advisor, leader and HR director. Birgitte is particularly into all types of skiing and always shares her passion warmly with others. She is a qualified ski instructor, trained in avalanche awareness, and holding an MSc in Psychology. Birgitte lived several years abroad and has travelled a lot to follow her passion for hiking and skiing. She is a knowledgeable and energetic guide with a big smile who always seeks to ensure that our clients get the most out of their hikes.
KATHRIN MARIA PULVERER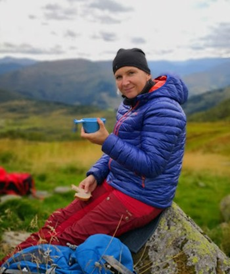 Profession: Chief Surgeon and medical doctor
Kathrin is Norway Mountain Guides' medical guru. She works as Chief medical doctor and surgeon at the main state hospital in Bergen, Haukeland University Hospital, in addition to guiding. Born and bred in Austria Kathrin is a highly experienced skier and mountaineer with a great passion for the outdoors. When she is not working with her PHD in medicine she spends time outdoors doing all kinds of skiing, snowshoing, and hiking. Kathrin's medical background is a great safety to have on our tours, and a valuable source of medical advice for all our guides. She moved to Bergen, Norway several years ago, where she now lives with her family. Kathrin is a responsible but relaxed guide who can tell you a lot about her experience with the Norwegian culture.
ALEXANDER IVERSEN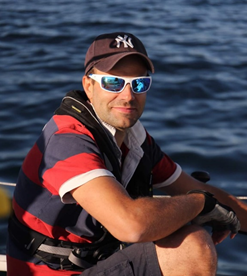 Profession: Consultant
Alexander is our very outgoing IT expert and works part time with guiding and back office administration for Norway Mountain Guides. As an experienced sailor sail and hike and sail and ski are his preferred means of getting outdoors. Sailing allows him to combine his love for challenges and problem solving skills with being outdoors. Alexander is also active with hiking and skiing as often as possible, and travels a lot in the winter to go skiing. He is born and bred in Bergen, Norway, highly familiar with the Bergen hikes where he has been hiking since being a young child. Alexander is a really likeable guide with a great sense of humour, making sure all his tours are about having a great time.