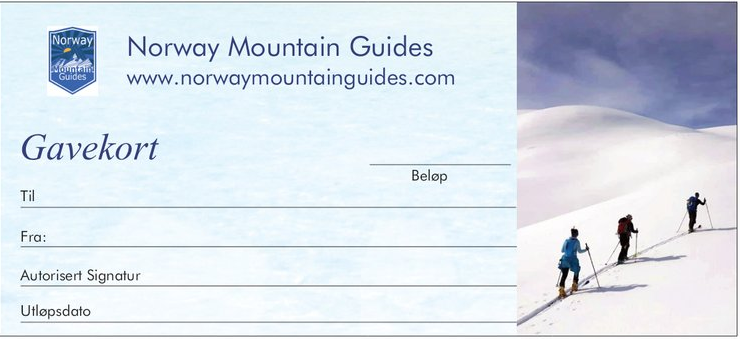 Gi en opplevelse til bursdag, jul eller firma samling. Mottaker kan bruke gavekortet fritt på en av våre tilbud. Velger man beløp lavere enn kurset / turen koster blir det trekt fra ved bestilling / Ved å legge inn gavekort koden.
Gavekort kan brukes på introduksjons kurs for randonee, opplæring alpint og langrenn, trugetur, hms i vinterfjellet teori kurs, Vår/sommer tur i fjellet, eller en topptur med skredlære.
Send oss en epost med beløp, og hvem du ønsker å gi gaven til. Du mottar gavekortet elektronisk eller fysisk, og kan betale med vipps om ønskelig.
GIFT CARD:
Provide an experience for a birthday, Christmas or company gathering. The recipient can use the gift card on one of our offers. If you choose an amount lower than the course / trip costs, it will be deducted when ordering / By entering the gift card code.
Gift certificates can be used for introductory courses for randonee, alpine and cross-country training, snowshoeing, HSE in the winter mountain theory course, Spring / summer trip in the mountains, or a summit trip with avalanche theory.
Send us an email with the amount and who you want to give the gift to. You will receive the gift card electronically or sent to you.