Bucket list for visiting Norway?
This is our most exclusive trip, but for many it is also their highlight of Norwegian nature experiences.
Have you dreamed of spending the night in a tent, or under open air looking at the stars, after watching the sunset from your sleeping bag, and your own mountain guide taking care of you?

We want to take you on an experience you will not forget so easily. As a traveler, it is often not possible to bring all the equipment this requires. Tents, sleeping bags, sleeping mats, storm kitchen, and other necessary equipment. We offer all this included in the trip.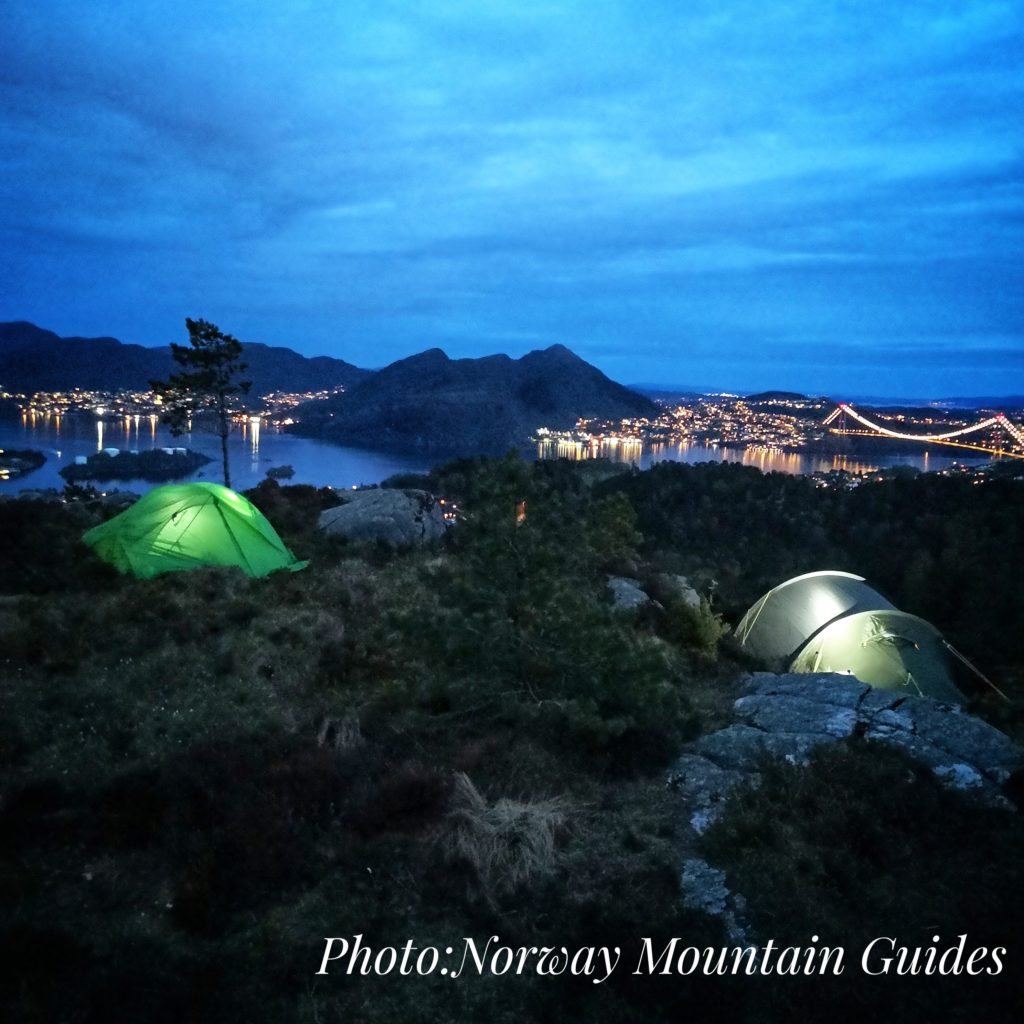 When: May-September
Where: Starting point Bergen city centrum.
Time: 2 days/ 1 night /28 hours.
INCLUDED IN THE PRICE:
-Professional guide carrying navigation, safety and first-aid equipment
Tents, sleeping bags, sleeping mats, storm kitchen, and other necessary equipment.
-Dinner and Breakfast
Transport by boat and car from the meeting point ,and return the next day.
And a whole lot of fun
Sustainable hiking with knowledgeable guides.
Price information:We do not hide that these trips are expensive. You get two days adventure ,all equipment, food, transport, and all planed well ahead. Many order them as a unique experience,boyfriend/girlfriend gift, birthday celebration or similar.
2 participants 3490,- nok each person , all included. ( Of course we do the trip for single people too, but then you have to pay for 2.)
The maximum number of participants is 6, and it can be a group or individual travelers. Note if you like the tour to be private you need to pay a extra fee 990,- nok p.p total cost for totally private experience 8960,-Nok
Group 4-20 persons – Contact us for a package offer.
Budget ? You can rent all the necessary equipment, and hike on your own. 1400,- NOK. p.p.
Alternative trip in Fjord Norway:
This price is valid for tent trips around Bergen, transport is added to the choice of other destinations with 1-3 hours travel time. If you do not buy the exclusive right to the trip, the booking can be kept open for extra guests until 1 day before the trip.Of course, everyone has their own tent regardless of this.
Booking: post@nmgguides.com
You decide if you want a trip far above the fjord in Hardanger, Aurland or other places, but there are also a number of great places just off Bergen city. Common to these trips is that we go shorter trips, and focus on the camp experience. The professional mountain guide will help you set up camp, cook etc. You are not going to carry the equipment, we do.
Dinner with breath-taking view, entertainment and all comfy apparels to make you experience the Heart of the Norwegian mountain Feeling.
Norway Mountain Guides has chosen the camp spot thoroughly after speaking with you. Our tent camp is allways located at a good distance from public , which makes for a quiet and off the beaten track experience.
Please contact us for group or personalized Adventure Options.
Nice to know:
Packing list and all necessary adventure information will be provided in your booking confirmation.
Hygiene: all guests are given a sheet bag that has been washed at 90 degrees, this is used in the sleeping bag.
Leave no trace: We leave the camp without a trace behind us, and of course we take all waste with us on the return. As a guest, you are not allowed to cut / ax the vegetation.
See you this summer!