Welcome to Bergen!
Norway Mountain Guides is # 1 on TripAdvisor because we meet all our guests on a personal level, and we want to show you the local places in the mountains that we ourselves so much appreciate.
All tours go beyond "tourist traps", or areas that are widely visited. common to all trips is that we go through beautiful terrain and seek out the best viewpoints Bergen has to offer!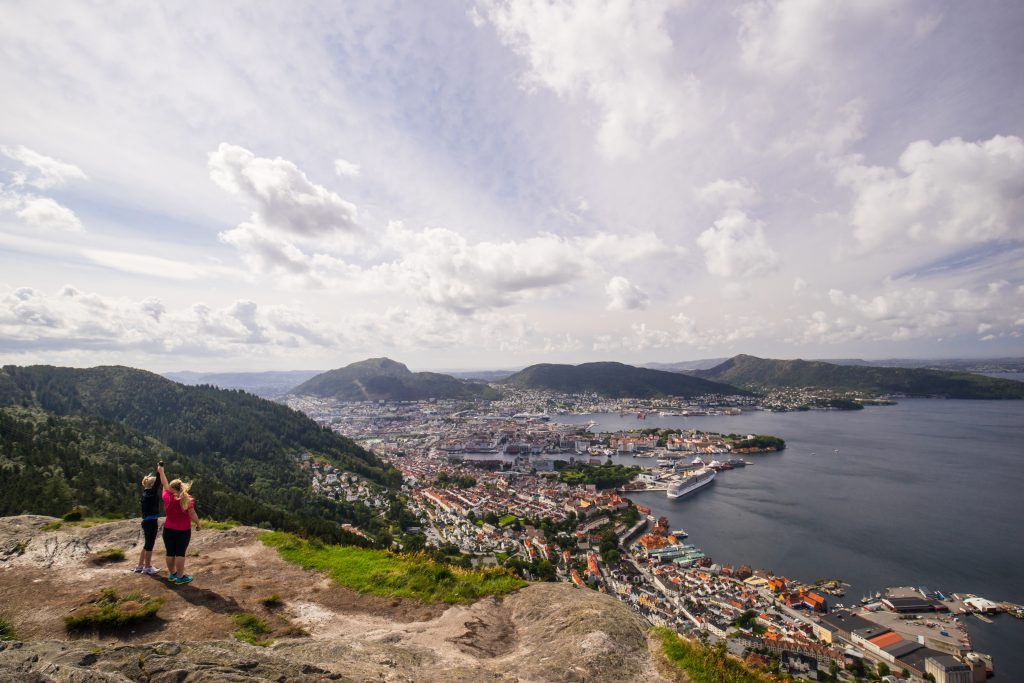 As a cruise tourist or 1 day visitor, it is important to see as much as possible and make the most of the time. Our very well educated Norwegian local mountain guides will assure you of this.
We are the largest hiking company in the region, and arrange tours 357 days a year. If you do not find an organized tour in the program, you can always book a private tour. Regardless of whether you want the local trip called "Bergen panorama", Hiking on Top of Bergen" or Cruise & Hike.
For all private trips: We provide an absolute guarantee of return at the right time for your cruise departure.
We adapt the trip to your wishes, and we do not miss when the ship arrives and leaves. Maybe you also want some time to see the center of Bergen? Regardless of seeing the city from the height and looking down at the harbor and your own ship from 600 meters above sea level is special!
Note:
The vast majority of cruises are located in the port of Bergen, just 10 minutes from the tourist information where we have our regular meeting place. When booking private tours we can always arrange a specific meeting place right by the ship and start the tour / guiding from there. Then we can also customize the trip to the desired time and length.
From May to August Bergen is visited by over 400 ships, and some days over 10,000 extra tourists in the city center, we are locally known and always find tours off the beaten track, but there are few guide companies so it can be good to book early.
Please read practical information before meeting for a tour. The weather in Bergen can change very quickly so its important that you bring necessary clothing. See packing list in the in meny.