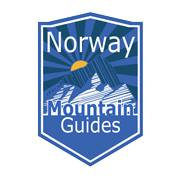 Fantastic experiences in untouched nature are important, but most important is the safety of our guests.
We work systematically to maintain our good statistics with no injuries to guests or guides on tour.
Norway Mountain Guides has prepared guidelines with contracts for guides, and guests who help to take care of this. Most important of all is good and clear communication between the guide and the guests.
We focus on:
Risk analysis for all our activities
Accidental preparedness.
The guide always has first aid equipment.
Notification routines
Deviating routines
Norway Mountain guides collaborates with a doctor from Haukeland University Hospital for the need for medical advice.
Ethical guidelines for the guides.
Qualified guides:
We are proud to say that our guides' education is different, but all unique. Among other things, with a background from the police and the military.
The Norwegian Trekking Association (in short DNT), Nature guides, IFMGA, (International Federation of Mountain Guide Associations). Various courses, educations in ski instruction, climbing instruction, sailing, avalanches, kayaking and first aid etc.